About Triple H Construction
Mike, Doug and Rob Hill
Doug Hill started building custom homes in the Parksville area in 1968. In the early eighties his two sons Rob and Mike joined in the company and have continued to construct quality homes in the mid-island area to this day.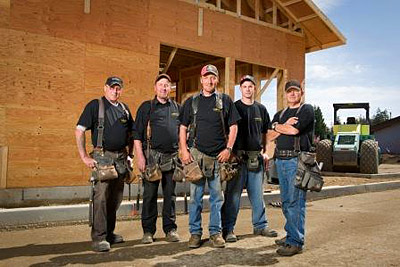 Triple H Construction Crew
With our experienced full-time crew we have built a reputation for framing that is the best in the custom home construction industry. Our carpenters have on average over 20 years of experience in superior craftsmanship. Triple H is one of the few custom homebuilders that use full-time employees to frame their homes. Our crew is focused on taking the time to make sure all Triple H homes are square, straight and level. Along with the quality workmanship of our sub-trades, no standards are too high.
Call us today at (250) 248-8942 to get more information and begin building the home of your dreams.